One of the most difficult aspects of workplace management is disciplinary action and the termination of employment.
When employers are required to make changes to its workforce, there are a range of legal obligations and risks that need to be considered.
Advice During Employment
Olexo Workplace Law  has years of experience assisting clients with the management of employee issues including poor performance, misconduct, or other capacity issues such as protracted employee illness or injury.
In relation to performance issues, we can:
Prepare and implement performance improvement plans
Provide advice around the setting of Key Performance Indicators (KPIs); and
Drafting formal performance warnings.
Employee misconduct is a separate category, and we are able to assist with:
Advice around whether misconduct constitutes a valid reason for dismissal or 'serious misconduct'
External, independent and legally privileged investigation services into misconduct allegations
The drafting of show cause or allegation correspondence; and
Attendance on behalf of employers at employee disciplinary meetings.
Where employers need advice in how to manage sick employees, or employees injured at or away from work, we can provide assistance with:
Responding to and completing workers compensation claims
Preparing return to work programs
Suggesting alterations to the workplace to accommodate sick or injured employees; and
Coordinating independent medical examinations for sick or injured employees to determine whether an employee can perform the inherent requirements of a role.
Redundancy
Olexo Workplace Law can assist in all aspects of workplace restructuring including:
The meaning of 'genuine redundancy' both for unfair dismissal and tax purposes;
Consultation requirements and the redundancy process; and
Preparing and implementing the required correspondence and documentation.
Post-Termination Litigation
Following any termination of employment, employees are able to bring a range of legal actions including:
Unfair Dismissal
General Protections claims under the Fair Work Act 2009 (Cth)
Breach of Contract claims at common law
Anti-discrimination claims
We have years of experience of advocacy in the Fair Work Commission, Federal Circuit Court and Federal Court, and can work with you through the process to minimise your legal risk and potential financial exposure.
---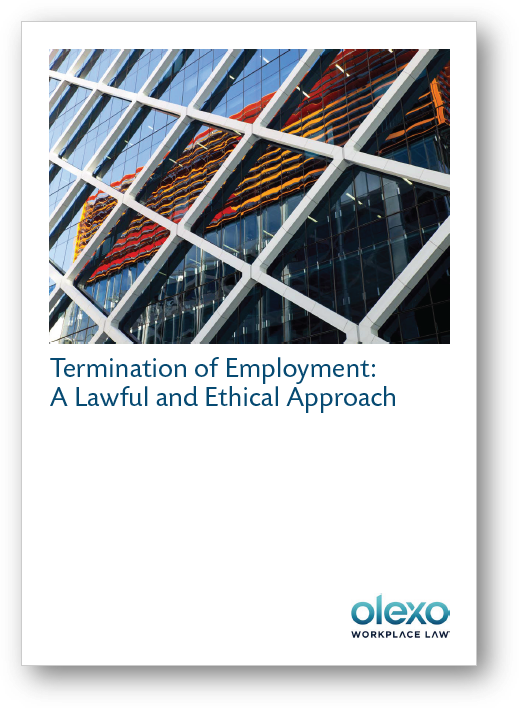 Olexo Workplace Law has compiled a resource for employers to assist in navigating the termination of employment process to assist in minimising their legal risk.
Click here for a full copy of the e-Publication.
---
Related Publications